Krasnoyarsk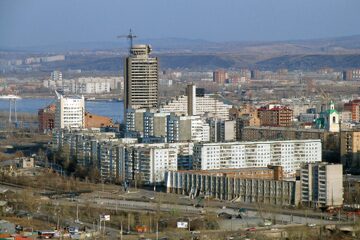 Krasnoyarsk is the biggest economic and cultural center of Central and East Siberia, the administrative center of Krasnoyarsk krai.
The population is 979 300 (year 2010 Census). There are 1 155 000 people in the agglomeration.
The annual average temperature is +1,3 C°.
The lowest temperature ever recorded is -52,8 °C ( in 1931).
The highest temperature ever recorded is +36,5 °C (in 2002).
The annual average wind speed is 2,3 meters per second.
The annual average air humidity is 68%.
In the beginning of XXI century there were 147 comprehensive schools in the territory of Krasnoyarsk. There are also 22 vocational schools, 16 colleges, 22 technical secondary schools and 29 institutions of higher education.
Krasnoyarsk is a developed center of industry where there are situated more than 17 thousand enterprises and organizations. The leading sectors are non-ferrous metallurgy, machine building, wood working, transport, chemical, food industries, retail and wholesale trade.