Moscow State Academy of Fine Chemical Technology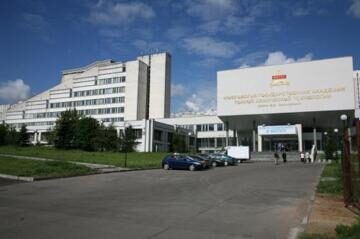 Moscow State Academy of Fine Chemical Technology named after M. V. Lomonosov (commonly abbreviated as MSAFCT or MITHT) is one of the oldest chemical educational institutions in Russia. The activity of MSAFCT is directed to the development of education, science and culture by force of holding scientific researches and teaching at all levels of high, postgraduate and supplementary education in the sphere of chemistry, chemical technology, bioengineering, technology of new materials, science of materials, materials processing, ecology and economy of chemical productions, standardization and certification of chemical and biochemical products.
MITHT has elite curriculums for Masters, higher engineering school and post graduate education. It also provides progressive methods of teaching and training engineers and takes from 21 to 25 place in the rating among 170 technical and from 1 to 4 place among chemical-engineering institutions in Russia.
The Academy has 8 faculties and 42 departments where Bachelors, Masters, Candidates and Doctors of Science are taught, it also has day and evening departments and the institute of remote teaching as well.
MITHT is a big educational and scientific complex, where there is a training of Bachelors (4 years) in 6 specialities, Masters (2 years after Bachelor's programme) in 20 curriculums and specialists (5,5 years) in 11 directions and 16 specialities.
The Academy carries out scientific work in alternative technology including organic, petrochemical and nanomembrane synthesis and catalysis, hydrogen energy, recycling of raw materials (rubber and polymers), ecology, environmentally friendly sources of energy.
MITHT cooperates with many scientific organizations and industrial enterprises in Russia and abroad. It is constantly increasing its ties with industry and business society. At present the Academy has over 70 business partners in different fields of industry. The Academy has many-sided international contacts with many foreign countries, it provides teaching and special training of post-graduate students including Masters and Candidates of Science. At present more than 170 foreign students study at the Academy.
The Academy has 8 faculties and 42 departments, about 3000 students of full-time tuition study there, more than 500 students of evening department and about 150 postgraduates.