Nizhny Novgorod State University of Architecture and Civil Engineering (NNGASU)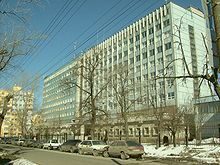 Nizhny Novgorod State University of Architecture and Civil Engineering (NNGASU) is an institution of higher education accredited by the Ministry of Education and Science of the Russian Federation. It was founded on 3 June 1930 as Nizhny Novgorod Ebgineering and construction institute. Since 1932 it was Gorky Engineering and construction institute, from 1938 till 1991 it bore the name of V. P. Chkalov. In 1991 it was renamed into Nizhny Novgorod Architecture and Civil Engineering Institute of the order the red banner of labour. In 1993 it received the status of the academy and was renamed into Nizhny Novgorod State Academy of Architecture and Civil Engineering. In 1997 it got the status of the university and its modern title.
Presently it is one of the leading universities of Russia offering professional education in architecture and construction engineering. The body of its faculty members and researchers is over 1000. The number of students enrolled is over 23 000 students. The University activity areas are education.
International students pursue their studies for bachelor's degrees, specialist diplomas or master's degrees at six institutes of the University in the following specialties:

Institute of Civil Engineering:
Industrial and Civil Construction, Hydraulic Engineering, Production of Building Materials, Products and Structures, Timber Processing Technology, Information Systems and Technologies, Standardization and Certification, Expertise and Management of Real Estate.
Institute of environmental engineering systems and structures:
Nature Management, Occupational Health and Safety in Industry, Water Supply and Sanitation, Heat and Gas Supply, Industrial Power Engineering, Automation of Technological Processes and Production in Construction Industry.
Institute of Architecture and Urban Development:
Architecture, Design of Architectural Environment, Restoration and Reconstruction of Architectural Heritage, Urban Construction and Economy, Land Cadastre, Urban Cadastre, Construction of Roads and Airfields, Garden Design and Landscape Construction, Socio-Cultural Services and Tourism.
Institute of Economics and Law:
Economics and Management (in construction industry), Organization Management, Marketing, Business Accounting - Analysis and Audit, Law.
International Institute of Economics, Law and Management (partner universities: NNGASU - University of Applied Sciences in Cologne, Germany - Zuid University, the Netherlands):
International Business, Organization Management, Applied Computer Science in Economics.
Institute of Humanities and Arts:
Social Pedagogy, Psychology, Vocational Training (in Design), Interior Design and Equipment.
Tuition fees are in the range of 30 ÷ 40 thousand rubles per semester (depending on the specialty).