Novosibirsk State University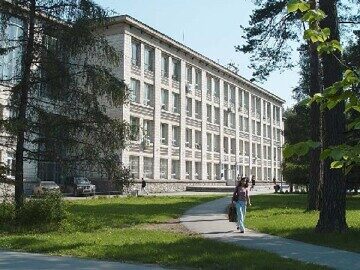 Novosibirsk State University was founded in May 1959 in the USSR by Soviet academicians Mikhail Alekseevich Lavrentiev, Sergei Lvovich Sobolev and Sergey Alekseyevich Khristianovich in a program of establishing a Siberian branch of the USSR Academy of Sciences. Novosibirsk State University is one of the most famous universities in Russia, although is somewhat young. The university is located 20 kilometers from the city of Novosibirsk, a cultural and industrial center of Siberia. The total number of students in the year 1999 was 5200.
Novel approaches to the combination of classical education with research practice, succession of outstanding scientific schools, continuing traditions of the oldest Russian universities - are those sources which allowed NSU to become the leading institution of higher education in Siberia in training élite personnel for higher education, scientific researches and business in a short space of time.
Graduates of NSU are at the head of 20 Institutes of RAS, occupy executive positions at the universities, business-structures.
According to The Times - «Higher Education Supplement» in 2005 only two Russian universities were in the number of the best world's universities: MSU and NSU.
There are 13 faculties, 106 chairs, 18 specialities, 9 directions of bachelor training and 11 directions of master training at the NSU.

List of NSU departments:
Department of Mechanics and Mathematics (DMM)
Department of Physics (DP)
Department of Natural Sciences (DNS)
Department of Geology and Geophysics (DGG)
Department of Economics (DE)
Department of Information Technologies (DIT)
Department of Humanities (DH)
Department of Foreign Languages (DFL)
Department of Journalism (DJ)
Department of Psychology (DPs)
Department of Philosophy (DPh)
Department of Law (DL)
Department of Medical Science (DMS)