Saint Petersburg State Technological University of Plant Polymers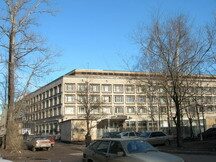 Saint Petersburg State Technological University of Plant Polymers is one of the oldest institutions of higher education of the Soviet period of the country.
During 75 years of the development of the university it was renamed several times and each of the titles contained the definite landmark of the development of the country.
The history of our University dates back to 1931, when the Leningrad Promcooperation Institute named after Molotov was founded. In the Soviet times universities were often called in honour of outstanding figures of the party. The university bore the name of Zhdanov, Polytechnical Institute named after Kalinin.
Since 1938 it was Leningrad Technological Institute Vsekompromsovet named after Molotov. This renaming coincides with the peak of mass repressions which concerns the teaching staff of the university.
In 1941 the university was included into the system of a state higher education.
In 1959 it was renamed into the Leningrad Technological Institute for the Pulp and Paper Industry.
This period is characterized by the intensive development of institute's structure - in concordance with the needs of the sector there were opened new chairs and faculties; laboratories were modernized with modern equipment.
Many famous people studied and taught at the university.
In 1981 the institute was given The Order of the Red Banner of Labour.
In 1992 it became Saint Petersburg Institute of pulp and paper industry of the Order of the Red Banner of Labour.
In 1993, the Institute got the status of University and was renamed into the Saint Petersburg State Technological University of Plant Polymers. Beginning in the fifties, research works dealing with pulp, paper and board production were being carried out actively in the University.
Now the University is the only higher educational establishment in the Russian Federation providing integrated training of specialists for industrial enterprises engaged in in-depth chemical processing of wood. The majority of University graduates work in the forest, pulp and paper industries, the chemical industry, the power sector of Russia, CIS and foreign countries.
Presently, the University is developing business relations in the field of machinery building with a number of foreign companies such as Voith, Metso, Andritz, etc.
The University participates regularly in many national and international programmes. University scientists carry out fundamental and applied research in collaboration with their colleagues from U.S.A., Germany, Canada, Poland, France, China, Finland, etc.
Departments:

DEPARTMENT OF CHEMICAL ENGINEERING
DEPARTMENT OF ECONOMICS AND MANAGEMENT
DEPARTMENT OF ENVIRONMENTAL ENGINEERING
DEPARTMENT OF MECHANICS OF AUTOMATED PRODUCTION
DEPARTMENT OF INDUSTRIAL HEAT POWER ENGINEERING
DEPARTMENT OF AUTOMATED PROCESS CONTROL SYSTEMS