Maxim Gorky Literary Institute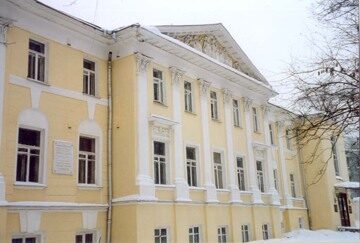 Maxim Gorky Literary Institute is a higher education institute in Moscow. It is located at 25 Tver parkway.
It was founded in 1933 on the initiative of Maxim Gorky, and received the current name at Gorky's death in 1936. There are full time studies and extramural education. On the full-time tuition there are bachelor's (4 years), specialist's (5 years), master's (2 years after bachelor's degree) programs and 2 specialities (literary work and translation of fiction). Extramural education has the only program of training specialists (6 years) and only one speciality (literary work). The department of literary translation trains translators of fiction from English, French, German, Italian and Korean. Besides there are also postgraduate studies and doctorate (specialities: "theory of literature", "Russian language", "Russian literature").
Accepting to the institute is realized on the grounds of the creative contest and preliminary examinations. The creative contest is carried out by correspondence, on the grounds of sent creative works on a chosen direction of training. University entrants, getting a positive mark according to the results of creative contest, have summons of Admission Committee to pass preliminary exams.
Training of students is realized simultaneously in two directions: All-humanitarian and creative. Creative development is realized within the bounds of creative seminars. there are the following seminars: prose, poetry, dramaturgy, juvenile literature, literary criticism, essay and political essays. Creative seminars are held only once a week.
There work Higher literary courses, Higher school of literary translation, Courses of editors, Courses of proofreaders and Courses of foreign language under the institute.
Cities of training
"Our representatives"
Mr. Karwan H.F Jwamer
Kurdistan Region -Sulaimani-Iraq
Tell: +07701428111
P.O.Box 442
e-mail: jwameri1973@gmail.com