Moscow Institute of Electronic Technology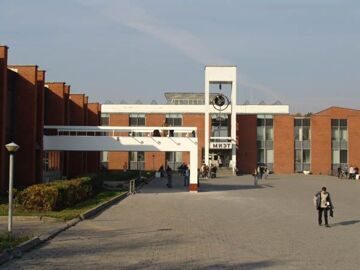 Moscow Institute of Electronic Technology (National Research University) MIET is Russian technical university in the field of microelectronics and one of 29 National Research Universities. University was founded in 1965. There are 9 faculties, 32 chairs and 3 research institutes functioning in the institute. 650 lectures among which 3 academicians and 3 corresponding members of Russian Academy of Science, 95 professors and Doctors of Science, 290 Candidates of Science and associate professors work there.
Today over 200 foreign students study at MIET. Besides training full-time and part-time students using the newest equipment and software, MIET was one of the first universities of Russia to provide distance education for students in Russia and abroad via Internet using unique curriculum developed at the university.
Every year a large amount of research is carried out at MIET not only by faculty members and research assistants, but also by postgraduates and students. For almost 15 years MIET has been participating in innovative activities. The university has received status of National Research University on May 20, 2010.
There are the following faculties and departments:
Computer Science and Telecommunications:
Computer Science
Information Protection
Applied Mathematics
Telecommunications
Radio Engineering
Electronics and Computer Technologies:
Biomedical Engineering
CAD Systems
Nanotechnology in Electronics
Microsystem Technology
Electronic Technologies, Materials and Equipment:
Automation and Control
Environmental Protection
Electronics Machinery
Quality Control
Applied Information Technologies:
Institute of Economics, Management and Law:
Foreign Languages:
Graphic Design:
Evening Department:
Radio Engineering
Computer Science
Electronics and Microelectronics
Telecommunications
Economics
Distance Education Department:
Preliminary Training Department
College of Electronics and Informatics