Rostov State University of Civil Engineering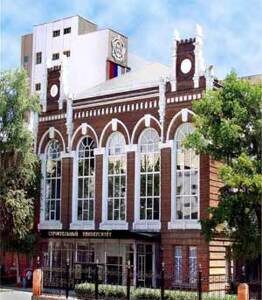 Rostov State University of Civil Engineering is the institution of higher education in Rostov-on-Don.
RSBU dates back to February 1944 when Rostov Civil Engineering Institute was opened. By order of the Ministry of Common and Vocational Training of Russian Federation the Institute was assumed to the University in February 1997.
The University has trained more than 50 000 civil engineers, architects and economists during its activity. About 600 post-graduates and doctorates defended their thesis successfully.
Over 1 500 specialists including 52 Candidates and 2 Doctors of Technical science have been trained in RSBU for 57 foreign states.
Nowadays more than 6 000 students and about 200 post-graduates get education at 5 Institutes of the University.
Highly qualified scientists with international appreciation conduct a professional activity at 45 chairs of the University. 13 academicians, 15 corresponding members and councilors of Architecture and Construction Science Academy, 8 Honoured Scientists of Russian Federation are among them. More than 75 per cent of the staff possesses the scientific degrees, including 18 per cent professors, Doctors of Science. There are libraries, sport halls, and sport-sanitation complex at the Black Sea coast, a dispensary and three student's hostels at the University.
LIST OF SPECIALITIES:
Industrial and Civil Engineering;
Structure's Design;
Expertise and Estate Management;
Information Systems and Technologies;
Organisation Management;
Architectural Heritage Reconstruction and Restoration;
Production of Building Materials, Units and Structures Industry;
Mechanisation and Automation in Construction;
Standardisation and Certification;
Sales Management and Goods' Expertise in Construction Industry;
Roads and Aerodromes;
Traffic Machine and Machine Equipment Maintenance (auto service);
Organisation of Carriages and Road Traffic Control;
Organisation of Traffic and Safety on the Roads;
Heat and Gas Supply and Ventilation;
Water Supply and Sewage;
Engineering Protection of Environment;
Fire Safety;
Technological Process and Production Safety;
Emergency Situation Safety;
Finances and Credit;
Accounting, Analysis and Audit;
Economics and Management at Enterprises;
Marketing;
Anti-crisis Management;
Advertising;
Applied Informatics in Economy;
Applied Geodesy (Survey);
Urban Cadastre.
Institutes:
Industrial and civil engineering Institute
Civil Engineering Technology and Materials Institute
Highway and Transport Institute
Engineering Ecological Systems Institute
Economics and Management Institute
Refresher Institute for Specialists