Samara State Technical University (SamGTU)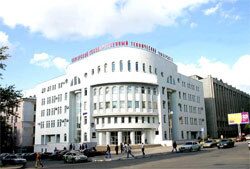 Samara State Technical University (SamGTU) was founded in 1914. There are 11 faculties with over 19 000 students (2010) and 1800 faculty members. On campus, there are four dormitory and ten study buildings. SamGTU offers over 80 degree programs which have been designed to provide students with professional knowledge and skills.
The teaching staff includes 115 Doctors of Science and professors, 617 candidates of science and associate professors. Training of specialists is realized at 70 chairs in 18 directions, 54 specialities and specializations for all sectors of national economy.
Research projects done at the Samara State Technical University contribute to the development of various branches of industry in the Samara Region, with energy, environment, engineering, communication, and medicine being in focus.
Faculties:
Automation and Information Technologies Faculty
Chemical Engineering Faculty
Engineering Economics Faculty
Petroleum Engineering Faculty
Electrical Engineering Faculty
Food Production Technologies Faculty
Thermal Power Engineering Faculty
Mechanical and Automotive Engineering Faculty
Physical Technologies Faculty
Postgraduate Studies Department
Samara State Technical University is a recognized scientific technopolis in the Samara Region. There are over 70 scientific departments. Among them there are three research institutes, a technical park, three scientific and six engineering centres, two design offices, 16 research laboratories, research centres, etc. There are over 110 Doctors of Science, Professors, and 566 Candidates of Science.
MAJOR FIELDS OF RESEARCH:
MECHANICS. MACHINE BUILDING. MATERIAL SCIENCE.
ELECTRICAL ENGINEERING. POWER ENGINEERING.
CHEMISTRY. CHEMICAL TECHNOLOGIES.
ECOLOGY. ENVIRONMENT PROTECTION.
OIL AND GAS. GEOLOGY. RECOVERY. OIL REFINING. PETROCHEMISTRY.
INFORMATION TECHNOLOGIES. RESEARCH TOOLS
Cities of training
"Our representatives"
Mr. Karwan H.F Jwamer
Kurdistan Region -Sulaimani-Iraq
Tell: +07701428111
P.O.Box 442
e-mail: jwameri1973@gmail.com