Stavropol State University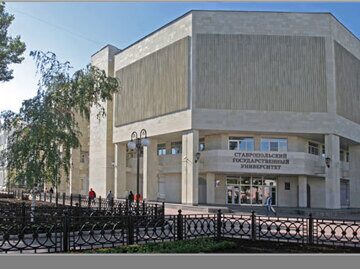 Stavropol State University is an up-to-date and dynamic establishment of higher education with great history and traditions, a leading scientific-educational center of the North Caucasus integrated organically into the social-economic development of the region providing stable reproduction of state-of-the-art specialists in a broad spectrum of specialties. Founded in 1930 as Stavropol Agricultural-Pedagogical Institute it was reformed into Stavropol State Pedagogical Institute in 1932 and in 1994 into Stavropol State Pedagogical University. Under the Regulation of the Government of the Russian Federation № 189 of February 28, 1996 Stavropol State University as founded in Stavropol on the basis of the Stavropol State Pedagogical University and the Stavropol branch of Moscow Law Academy.
SSU is located in 6 buildings having the area of 45 thousand square meters; it has a scientific library, 3 well-appointed dormitories, which number 1800 places; 3 sports halls. A new building with the general capacity of 30, 5 thousand square meters is being constructed. The first stage development of 16, 2 square meters is under completion.
The University realizes students' training at 12 faculties (including the Faculty of Medicine, Biology and Chemistry, the Faculty of Physics and Mathematics , the Faculty of Philology and Journalism, the Faculty of Law, the faculty of Economy and other) in 51 specialties of higher professional education, in 15 BA and 18 MA courses, 8 additional qualifications, which cover the whole spectrum of the contemporary university education. At the present time 18 thousand students are trained in the University (including full-time, part-time and external modes of studies).
University Chairs:
Information technology
Foreign Languages I
Foreign Languages II
Pedagogics and Psychology of High School
Political History
Politology and Sociology
Social Philosophy and Ethnology
Physical Culture
Philosophy
History and Philosophy of Science
Humanitarian-Pedagogical
Reserve-officer training chair
Faculties:
· Faculty of Geography
Faculty of History
Faculty of Medicine Biology and Chemistry
Faculty of Psychology
Faculty of Romance and Germanic languages
Faculty of Physical Education
Faculty of Philology and Journalism
Physics and Mathematics Faculty
Faculty of Economics
Faculty of Law
Faculty of Arts
Advanced Training Faculty and Professional Retraining of the Managerial Staff of Education Faculty
Translation Department
Cities of training
"Our representatives"
Mr. Karwan H.F Jwamer
Kurdistan Region -Sulaimani-Iraq
Tell: +07701428111
P.O.Box 442
e-mail: jwameri1973@gmail.com